What a fun month it's been! The cooler weather is finally here! Our friends have been coming to preschool so excited to be able to enjoy their outside experiences again, it truly is so refreshing for our Phoenix children! The end of October typically marks the beginning of a very busy season for families. From Halloween to Fall parties, Thanksgiving, Christmas shopping, vacations from school for older children, the Christmas holiday, it all seems to come on so fast and leave us all in a blur! Be sure to stop at the front desk and let us know when you'll be out of town or taking time off, this helps us schedule appropriately and give our wonderful staff some holiday time off as well!
This season is also a very special time for preschool age children as they're learning to explore the world around them and what all this time of the year entails. One of the biggest lessons children can learn through this time is gratefulness and in turn, they can help us adults remember all that we have to be grateful for! In our programs, we have begun having conversations and have been asking open-ended questions encouraging children to share what they are grateful for. A response you can always count on from our Pre-K classrooms – they are most thankful for their friends!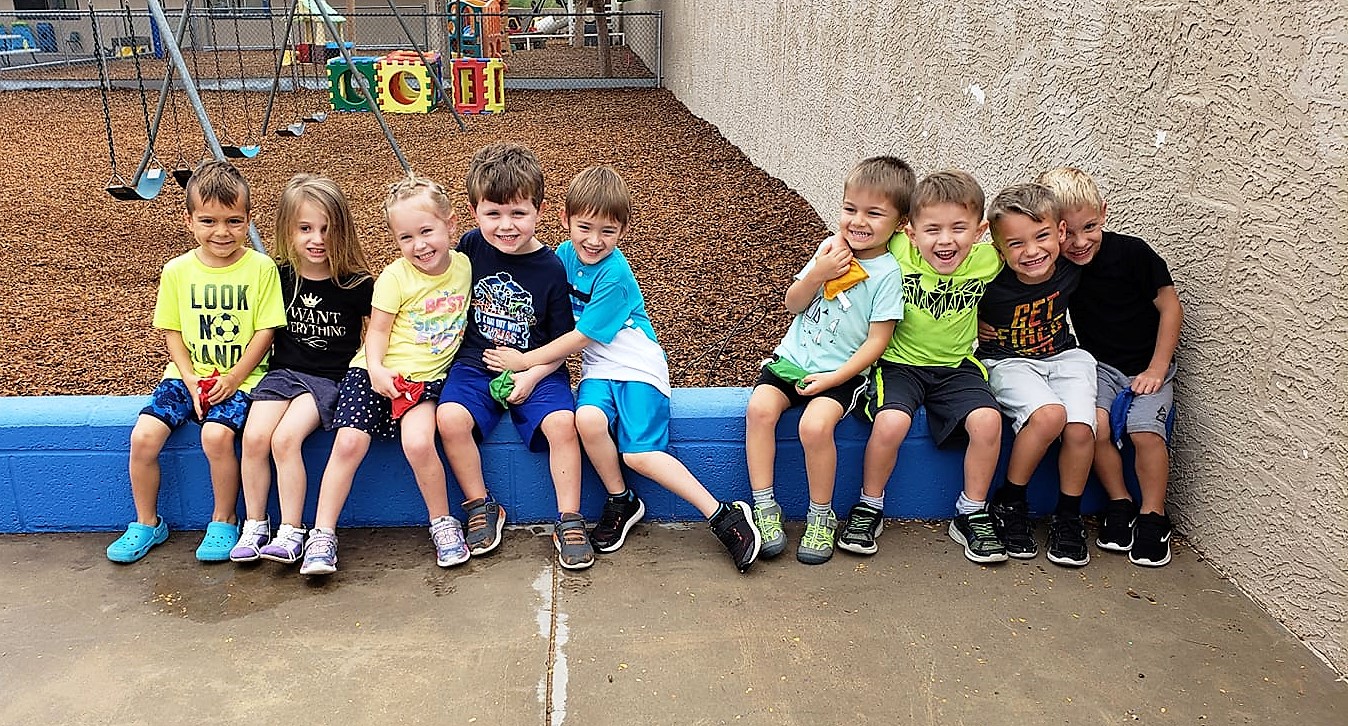 Let's take a peek at some things we've done this month!
STEAM experiences are always a part of our day and this month we've talked a lot about volume. We've learned that there are different ways to add volume and come to the same total, all while working our fine motor skills! A great example of this concept is the following activity that our Pre-K class in Paradise Valley experienced. The children were given droppers and cups of water to use to fill in the circles on the parchment paper in front of them. Through this experience, they practiced squeezing the dropper, counted the drops, talked about shapes and were able to grasp the concept of volume!


A few fun captures…
I see you!
There's nothing like the excitement that comes from learning to write your name!
This guy made us laugh over and over with his "chatting" on the phone!
Halloween may be the most anticipated holiday of the year for your little one and for good reason! Many of our programs hosted their annual fall festivals this past week and our preschool friends and their families were invited to join in costume. We loved seeing the creativity and excitement these events bring for families as they make memories that will last a lifetime. Be sure to stop by the front desk at your child's program to ask about any class parties or events that are planned – we don't want anyone to miss out!
While you're preparing for Halloween be sure to talk about safety and what it means to be a good neighbor while trick or treating.  (P.S. If you're still needing some costume inspo, don't worry – you're not alone and we've got you covered!)
It doesn't seem right to talk about the holidays without talking about pumpkin pie! Our toddler friends in Surprise agreed and spent an afternoon fingerpainting and creating these adorable pumpkin pies out of paper plates! What a fun sensory experience for them, they almost look good enough to eat!
Serving families across the Valley as a local, family-owned business for over 50 years is an honor we do not take lightly. Thank you for being a part of our story and most importantly – letting us be a part of yours!
Not yet a part of our Valley family? We offer an open door policy meaning we take tours at any time, stop by and get to know us! You can also get information like locations, rates and more about our story right here on our website!