Curriculum
Welcome to Valley Learning Centers!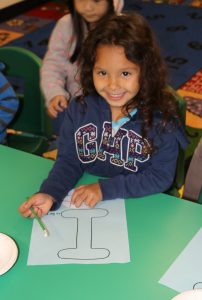 We offer a wide range of preschool activities through our full day program. Our preschool program consists of curriculum centered around themes. Daily activities are offered by your child's teachers as they work to enhance growth and kindergarten readiness for early learners. Our activities are built around developmental domains including:
Language/Literacy
Social Emotional
Cognitive Development
Creative Expression
Social Studies/The World Around Us
Physical Development/ Health
Science
Our program is designed to meet and exceed the early learning standards for the State of Arizona!
Program Goals:
The curriculum is based on current research and sound educational theories of early childhood learning and development.
We will provide a wide range of activities that incorporate hands-on, interactive materials allowing children to safely explore their surroundings.
The activity and project suggestions provided in our curriculum are aligned with Arizona's specific Learning Goals and Objectives.
The program will encourage involvement of family members in each child's learning.
What Is Developmentally Appropriate Practice?
In simple terms, Developmentally Appropriate Practice means that activities and programs take into account what each child is ready for. Developmentally appropriate for ages 0 – 5 means that children should be offered a range of opportunities to interact with their environment.
What Are the Benefits of Being Developmentally Appropriate?
Practices that take into account the developmental readiness of each child can boost self confidence and independent thinking. Children are also provided opportunities for individual expression and are able to practice decision-making. This type of environment promotes skills and discipline, inspires creativity, encourages flexibility, and provides for emotional release. To a great extent, each teacher determines how the program is used in his or her particular setting.
We have two programs:
Infants and Toddlers
0 to 3 years
Full Day Developmentally Appropriate Curriculum
which begins in our infant room and continues
throughout the toddler years.
Preschoolers
3 to 5 years
Complete Full Day Preschool program
preparing your child for Kindergarten success!
Assessments based on developmentally appropriate expectations will be provided for your child twice a year.  While feedback will be available on a daily basis, parent-teacher conferences are also offered and encouraged to ensure continuous communication.
Sample Full Day Preschool Schedule:
| | | |
| --- | --- | --- |
| Start Time | End Time | Activity |
| 6:00 am | 8:00 am | Good morning!  Early morning breakfast is served and centers are open for free play |
| 8:00 am | 8:15 am | Wash Hands |
| 8:15 am | 8:30 am | First Circle Time |
| 8:30 am | 8:40 am | Bathroom Break |
| 8:40 am | 9:00 am | Breakfast |
| 9:00 am | 9:15 am | Second Circle Time |
| 9:15 am | 9:30 am | Small Group Time |
| 9:30 am | 10:30 am | Free Center Play |
| 10:30 am | 10:50 am | Outdoor Play (weather permitting) |
| 10:50 am | 11:10 am | Quiet Time with A Book |
| 11:10 am | 11:20 am | Bathroom Break |
| 11:20 am | 12:00 pm | Lunch |
| 12:00 pm | 2:00 pm | Nap |
| 2:00 pm | 2:30 pm | Bathroom Break & Snack |
| 2:30 pm | 2:45 pm | Music & Movement |
| 2:45 pm | 3:00 pm | Journal |
| 3:00 pm | 3:15 pm | Daily Review/Share Time |
| 3:15 pm | 3:30 pm | Art |
| 3:30 pm | 4:00 pm | Learning Centers |
| 4:00 pm | 4:15 pm | Bathroom Breaks |
| 4:15 pm | 4:45 pm | Outdoor Play |
| 4:45 pm | 6:00 pm | Art, library, manipulatives, clean up and get ready to go home |